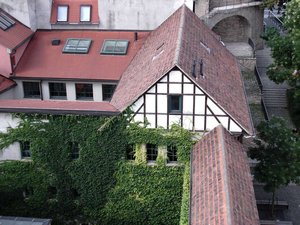 At the beginning of the 14th century Jena received the first stone city fortification.
On Johannisplatz, one of the oldest places in Jena, a last piece of the city wall, which was once 1.8 km long, resisted the destruction. The well preserved section of the wall is the result of renovations of the 15th and 16th centuries. The Haus auf der Mauer ("house on the wall") was built on this part of the city wall.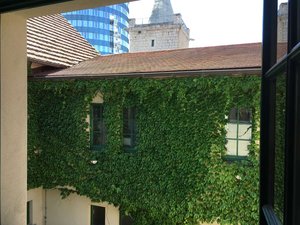 The winding building complex consisting of front and back house as well as two side wings, includes in its interior a cozy courtyard. In the late 1990s, the ensemble was elaborately restored and was used as a cultural center of the city of Jena in 1999. In 2008, the International Center brought colorful vividness into the old walls. Since then, multiculturalism prevails in the many rooms.