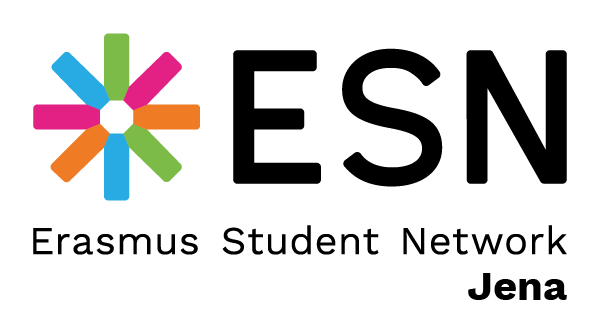 The Erasmus Student Network (ESN) Jena e.V. is a non-profit association, which promotes the integration of international students and cultural tolerance in Jena. We also promote mobility and inform about the opportunities to go abroad. Our motto is: "Students help Students".
We support international students attending the University of Jena and the Ernst Abbe University of Applied Sciences during their time in Jena. Therefore, we organize activities and events of all kinds: cultural events, parties, trips, and sport activities. Moreover, together with the international students are socially involved.
Out events are open to international and German students alike, just as our weekly Stammtisch (Tuesdays at 8:00 p.m., which takes place in the Paradies Park during the summer term and during the winter term at the "Haus auf der Mauer").
Also, every Tuesday at 6:00 p.m. we have our team meetings where we plan and organize our upcoming events or talk about any news of the ESN community.
If you are interested in joining our ESN Team, you are more than welcome to come to one of our meetings.

E-Mail: mail@esn-jena.de
Website: www.esn-jena.de
Instagram: @esnjena
Facebook: https://m.facebook.com/ESNJena